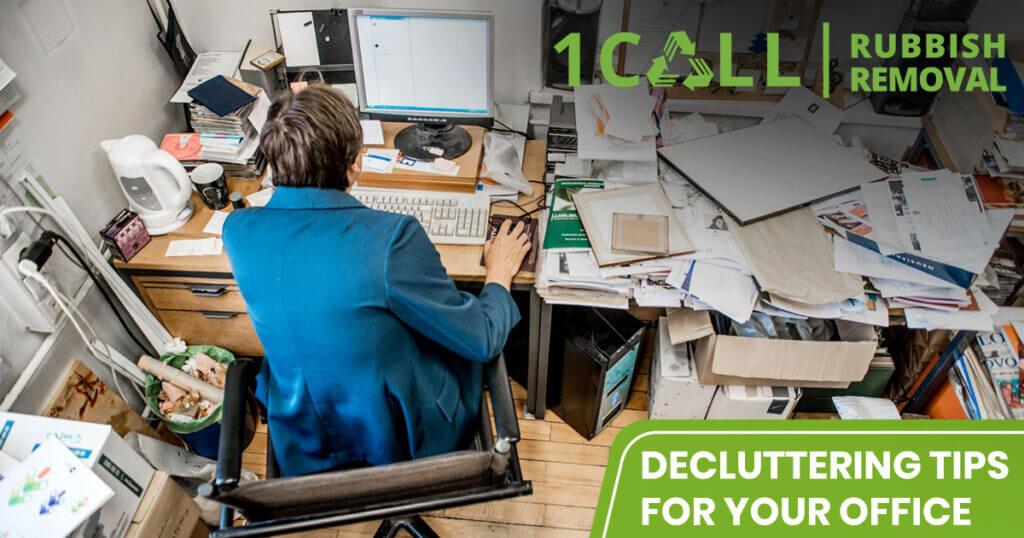 When your workspace is neat, you can focus on the tasks and be more efficient. And to achieve that, from time to time you have to declutter your office.
An office strip out can provide a number of benefits for businesses. One of the main advantages is that it can create a blank canvas. It provides an opportunity to redesign the space to better suit the needs of the business.
This can include changes to the layout, lighting and other features. Additionally, an office strip out can also lead to significant cost savings, as businesses will no longer need to lease or maintain outdated and unused office space.
Here are a few simple decluttering tips to help you get started:
Decluttering can seem so daunting, especially if you've let the mess build up over time. But if you do it correctly, it can be really rewarding. Here's step by step how you declutter your office easily.
1. Start with the desk
This is usually the area that accumulates the most clutter. Begin by sorting through your papers and getting rid of anything that you don't need.
Recycle any old newspapers or magazines, and shred any confidential documents. Once your desk is clear, give it a good dusting and polish any furniture to make it shine.
2. Cable management
One of the biggest causes of office clutter is tangled cables. When cables are left lying around, they quickly become twisted and tangled, making it impossible to know which one goes where.
To declutter your office, start by getting your cables under control. Use zip ties or velcro straps to keep them organized. And label them so you can easily identify which one goes where.
3. Change the layout of the furniture
One of the easiest ways to reduce clutter is to rearrange your furniture. Arrange them so that items that you use regularly are within easy reach.
Items that you don't use as often can be stored in drawers or shelves, out of sight and out of mind. 
4. Make your office strip out a gradual process
To make the process less overwhelming, start small and declutter one area at a time. Begin with desk drawers and work your way up to decluttering filing cabinets and common areas.
As you declutter, be sure to recycle or donate any items that are no longer needed.
Obviously you can do this by yourself, but you can declutter your office WAY much easier by using an office strip out service.
5. Make good use of dividers and shelves
Divide your desk into distinct sections – one for each type of task. By doing this, you can ensure that everything has its own place and can be easily found when you need it.
Similarly, shelves can be used to store frequently used items within easy reach. They can free up desk space and making it easier to stay organised.
When used correctly, dividers and shelves can be powerful tools for achieving an efficient and organised office.
6. Remove the rubbish by calling a removal service
After cleaning up everything, now you have to deal with the rubbish. Instead of bringing them to recycling centre by yourself, you can call a rubbish removal company.
They will do it for you seamlessly. And some of them even provide a same day rubbish removal service.
Same day rubbish removal is such a great option for an office clean up. Same day services mean that you can have your office cleaned up in no time.
This can be particularly useful if you have a big event or meeting coming up and need to make sure the place is looking its best.


1Call Rubbish Removal is a same-day rubbish removal company in Melbourne. We are your one-stop shop when it comes to rubbish removal. Whether you need us for a single item, an entire house, office cleanout, or for construction rubbish.
We also do commercial rubbish removal, including factory and warehouse cleaning. No job is too big or too small for our team of experienced and friendly professionals.
We pride ourselves on being the most reliable and affordable rubbish removal company in Melbourne. Read our FAQ to get more information, call us today on 1300 557 772 for a free quote.